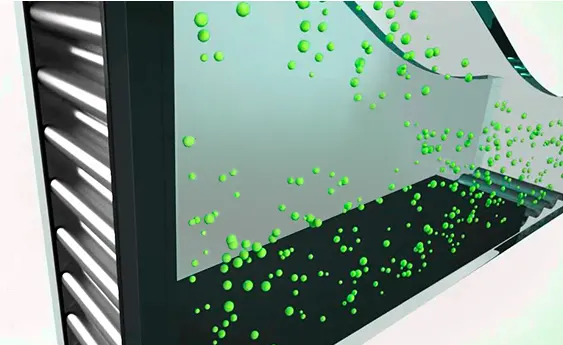 Less Condensation – Thighter Seal
Panes of glass in a window or patio door are held apart by spacers. Spacers impact the overall performance of the insulated glass. The quality of the materials used to produce spacers, their longevity, flexibility and thermal properties are critical.
How Important is a Spacer in a Window?
Outside your home, windows have to stand up to the extreme weather conditions all year round. They face changes in temperature, wind loads, barometric pressure, and humidity. Additionally, windows are bombarded with harmful UV rays and hot infrared radiation from the Sun. On the inside of your home, windows have to face changes in temperatures, too. And because the edges of the insulated glass unit are the coldest parts of the window, they are the most susceptible to condensation. Most often condensation occurs in well insulated and weather tight homes. Not only may condensation on the window lead to damaged woodwork, trim, and draperies, but it can also fuel mold growth.
High quality, non-conductive spacers create a thermal barrier and increases the comfort during cold and warm weather by reducing the transfer of heat and cold into your home. Also, warmer interior glass surfaces significantly lower possibility of condensation.
Four Benefits of High Quality Spacer
Absorb stress caused by thermal expansion and contraction.
Block moisture and water vapor that can fog the glass.
Create a tight seal that prevents leakage of special gas fills.
Increase the temperature of the edges of the insulated glass – this can help reduce
condensation and increase overall energy efficiency of the window.
Do Your Research about Spacer Materials before Buying Windows
Older double-pane windows and patio doors have metal spacers – typically aluminum. The problem with aluminum is that it is a super conductor of heat and cold. During winter it conducts cold and makes the edges of the glass even colder. This decreases overall U-Factor of the window making it less energy efficient. In addition to the increased heat loss, the colder edges of glass are more prone to condensation. Plus, aluminum spacers are usually square-shaped. This leads to another problem – inflexibility of the spacer. This inflexible design is typically a major reason for a seal failures, and special gas leakage. The end result of the failing insulated glass seals is depletion of the gas, and fog in between panes of glass that can't be cleaned.
Duralite HeatSeal® Spacer System
Duralite HeatSeal is an insulating glass edge structural seal system built by using a unique composite laminating technology. It contains NO METAL, but uses a durable polycarbonate structural spacer element. Polycarbonate is the same material that is used in the production of the canopies in F-20 fighter jet airplanes. It has insulating chambers with captured pillows of air that reduce energy loss through the spacer. 3-sided Continuous Moisture Barrier makes this spacer impermeable to gas and water vapor. Durable bondline adhesive is moisture resistant and withstands prolonged UV and water exposure. Protective layer of encapsulated desiccant in either grey or black color, prolongs the life of the entire spacer system.
Construction of Duralite HeatSeal Spacer
OKNOPLAST Warmatec Spacer
The new Warmatec frame is a combination of excellent parameters with high aesthetic value. It is made of two materials. The lower part is made of stainless steel, while the upper part is made of plastic, characterized by a low coefficient of thermal conductivity. This solution reduces the formation of a thermal bridge at the interface between the glass and the frame, and consequently reduces the Uw coefficient for the entire window. It can be used in all OKNOPLAST window systems. The Warmatec frame is available in black, brown and grey.
Thermal Properties of Duralite HeatSeal Spacer
Comparison To Other Spacer Materials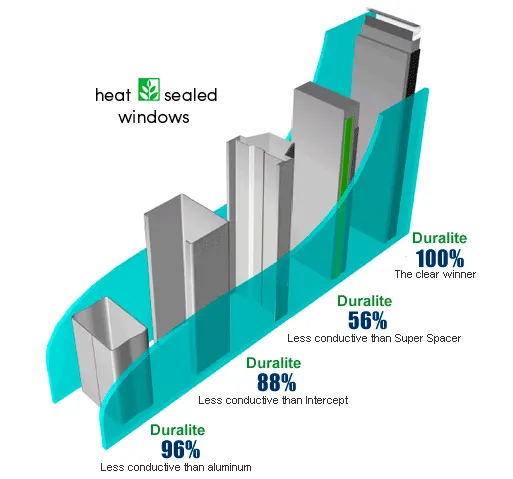 Let Us Help You Find The Best Window For Your Home and Budget
As company that specializes in new construction and replacement vinyl windows, we offer windows that utilize the latest spacer technologies.
OKNA HeatSeal and OKNOPLAST Warmatec Warm Edge Spacers will help you keep heating and cooling costs down, reduce condensation and boast long-life service of your insulated unit.
OKNA HeatSeal System with no-metal spacer featuring unique polycarbonate components is one of the best spacer system available on the market today.
OKNOPLAST Warmatec System has a similar thermal performance as a Heat Seal Spacer and can be used in three different colors: black, brown and gray.
To learn more about windows and patio doors call us at 860-357-5177, or click below to schedule a free in-home consultation.