The concept behind the garden window is similar to that of the greenhouse. Most greenhouses are structures with glass roofs. The glass used for a greenhouse works as a barrier to air flow, and its purpose is to trap the Sun's energy within the greenhouse, which helps you grow wide variety of plants. Commercial glass greenhouses are often high-tech production facilities for vegetables or flowers.
Garden windows were designed to bring some of that technology to your Connecticut home. Like bay and bow windows, garden windows project outside the home. Most garden windows have one or two glass shelves. The most common location for the garden window is the kitchen over the sink. Garden windows can add something special to any room, which makes living in it more enjoyable. Therefore more and more homeowners place garden windows in bedrooms, living rooms and even bathrooms. But this is simply a matter of personal preference.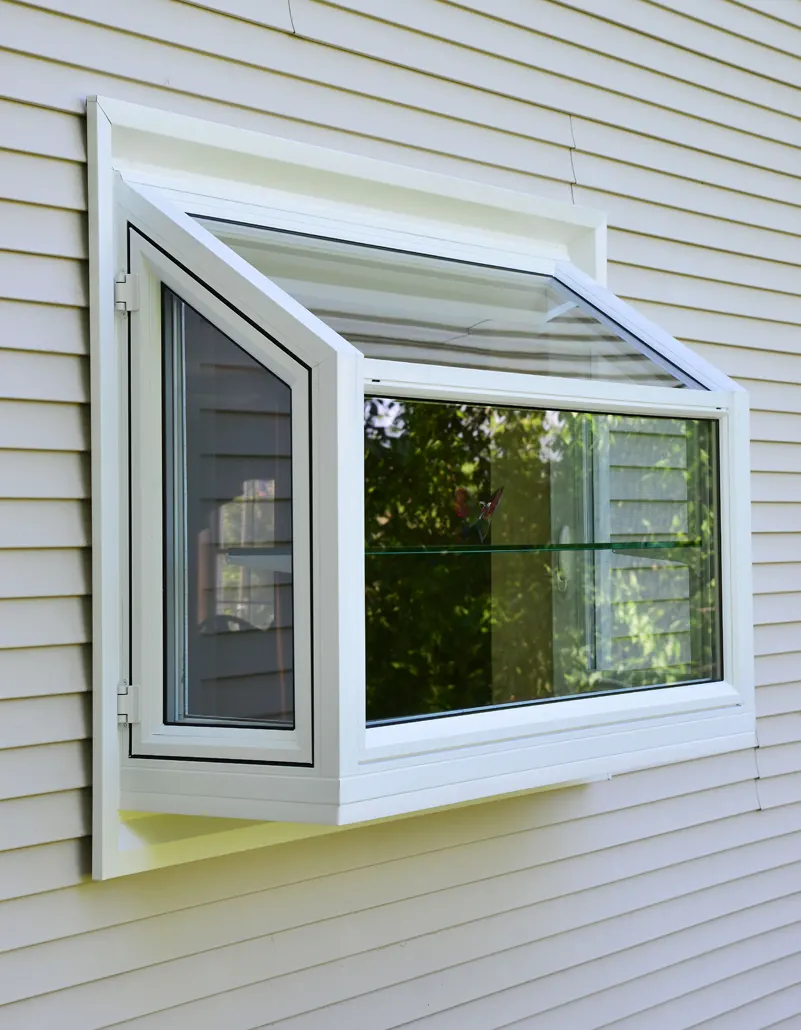 Benefits Of Garden Windows
Mini Greenhouse
Right In Your Home
With the garden window, you can have fresh flowers or herbs in your home throughout the year, right in the room where they bring the most pleasure.
Connection
With The Outdoors
Garden windows help connect with the outdoors without sacrificing comfort.
Additional Shelf Space
Our garden windows come standard with 3/8" thick glass shelf with polished edges for added beauty. It also comes with two adjustable brackets so you can adjust the amount of spaces between the shelf and seatboard, and between the shelf and the top sloped glass. Second shelf is available.
Additional Light
and Fresh Air
Because garden windows project outside the home, they allow more light into the home. Our garden windows have twin-sealing, fully screened operating casement windows that allow to bring in gentle breeze on the warm, sunny days.
More Beautiful Home
Not only garden windows are designed for showing your plants, but they are also designed for beauty. They help create dramatic new appearances adding style to the exterior of your home as they expand interior space, light, view, and therefore the beauty of your home.
Adds Value To Your Home
Our garden windows are the perfect addition to any Connecticut home. They create an instant feeling of light and view while providing a beautiful focal point. Any custom addition, such as a garden window, adds to the perceived value of your property.
Garden Window Features (photos of our work)
Standard frame colors are White and Tan. Other colors are available by special order, including: Bronze (dark brown) or Cocoa (light brown) exterior with a White interior or White exterior with a Light Oak interior.
Also available as a special order option is the color match system which allows the window to be painted to match your color sample.
Headboard, seatboard, and jambs are available in Birch or Oak veneer, White and Light Oak high-pressure laminate.
Interior Headboard, Seatboard and Jamb Colors
An acrylic solid surface seatboard is available in Arctic White and decorator colors: Tan, Vanilla Sugar, Platinum Granite, Black Pearl or White Quartz.
Garden Window Photo Ideas