Bay Windows
We take great pride in selecting our vendors with the goal of providing you with the products of highest energy efficiency and aesthetics possible in the price range of that product. We strive to help you find an optimal, not just satisfying, window product for your home and budget. You will find excellent bay window choices that will fit Connecticut homeowners' taste and budget.
Bay windows are three sided windows that project outside the house. They consist of one central window that is parallel to the walls, and two angled windows that come off the side of the front window. Since the windows are set outward from the face of the building, they add extra depth to the interior bay window area.
Change The Architectural Look of Your Home
Bay windows let you change the basic architectural look of your home – inside and out. They can open up any room and make it seem larger and brighter.
Beautify Your Home
Not only bay windows are designed for opening up rooms, they are also designed for beauty. They help create dramatic new appearances adding style to the exterior of your home as they expand interior space, light, view, and therefore the beauty of your home.
Add Value to Your Home
Bay windows are the perfect addition to any Connecticut home. They create an instant feeling of light and view while providing a beautiful focal point. Any custom addition, such as bay window, adds to the value of your property.
Connect With Natural Environment
Bay windows typically have a large fixed picture window in the middle that provides panoramic view of your outdoors. This expanded view can create an enhanced feeling of connection with your outside world. Also, a bay window can be a perfect spot to just sit and relax after a stressful day.
Create Additional Shelf Space
Expanded space of your room provides additional shelf space. This space can be used to grow your plants, flowers or vegetables. It can also be used to showcase your other things that are important to you, for example vases, photographs of your loved ones, collectibles, decorations and home accessories etc.
Add Light and Fresh Air
Because bay windows project outside the home, they will allow more light into it. Our bay windows have multiple-sealing, fully screened operating casement windows or double-hung windows that allow bringing in gentle breeze on the warm, sunny days.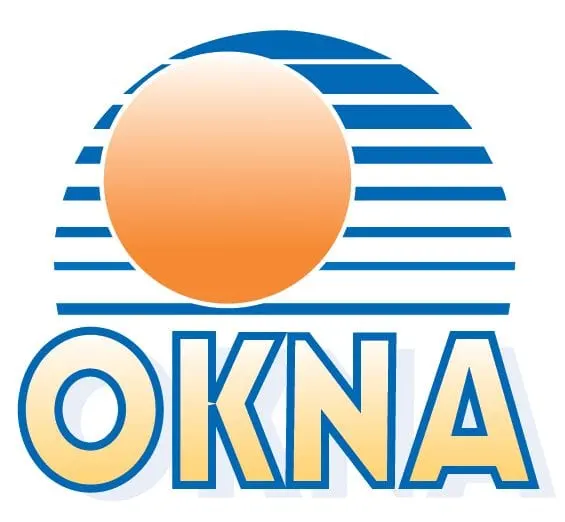 OKNA Bay Window Features and Benefits
SEVEN SUN proudly offers Bay Windows by OKNA Windows & Doors Inc. For over 30 years, OKNA has been manufacturing quality windows and patio doors. OKNA bay windows are one of the most popular ways to give your room light and space without adding square footage. These windows lend charm and beauty to any room. They are ideal for creating eating or reading nooks, bath surrounds, and mini greenhouses.
The highest quality materials, attention to details in the construction process, superb designs, and the latest advancements in the window technologies (both for energy efficiency and aesthetics) make OKNA bay windows a beautiful addition to any Connecticut home.
Tailored To Fit Your Needs
OKNA bay windows are custom-made to fit your exact window size, eliminating all the hidden costs and possibility of the job looking like afterthought.
Maximum Useable Seatboard
We offer a large selection of angles, degrees and sizes of flanker windows to customize the seatboard depth to meet your exact needs. With the systematic approach, calculations and planning, we can help you maximize useable seatboard area to display your plants and accent items on your new bay window.
Insulated Head and Seat Board
OKNA Bay and Bow Windows come in standard with ½ inch polystyrene insulation both in the seat board and the head board. Additionally, per homeowner's request, we can add up to ¾ inch of insulation at the time of the installation.
Water Penetration Barrier
Water penetration barrier below each window and mullion prevents water penetration without the need to use silicone.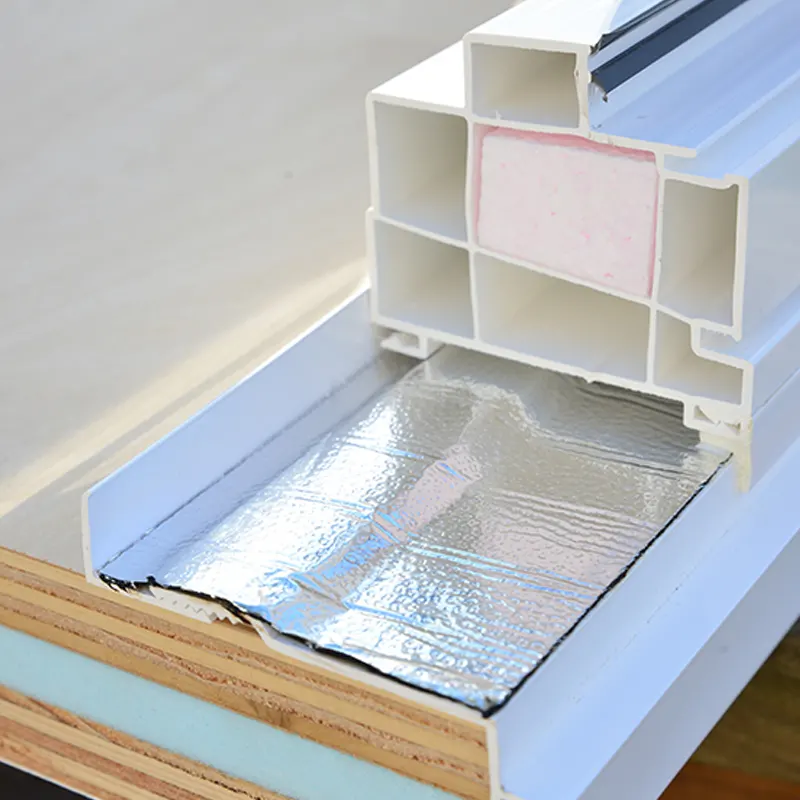 Silicone-Free Interior and Exterior
Silicone-free interior and exterior of OKNA bay windows ensures clean look of the finished product.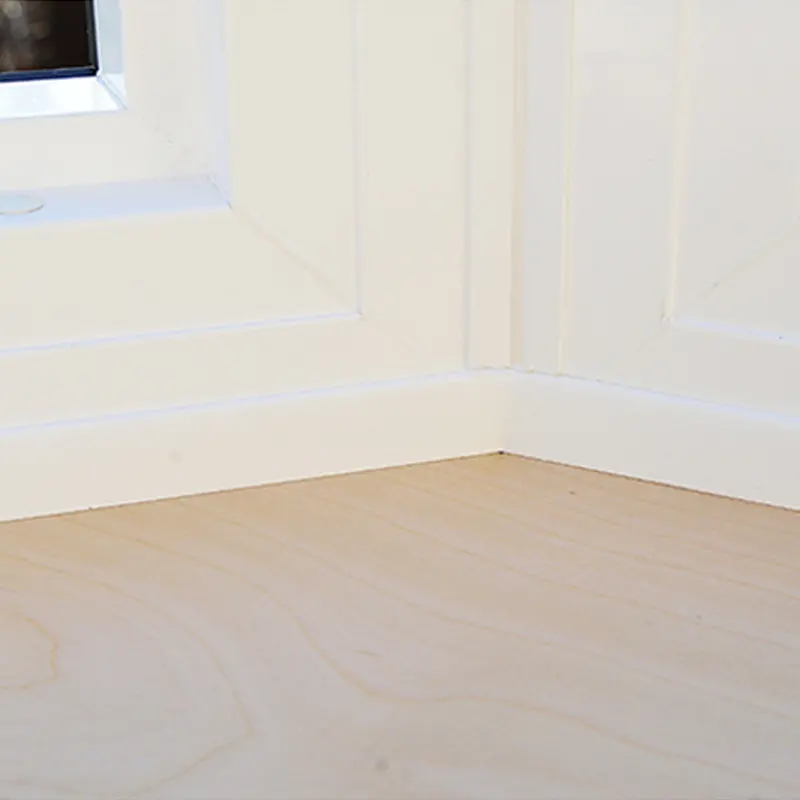 Standard Foam Insulated Mullions with Steel Rod
The mullions of bay windows are critical in helping to support the weight of the window because it projects outward. OKNA bay windows feature heavy-duty interior and exterior vinyl mullion profiles. The mullions are also reinforced with threaded steel rods for superior strength and stability. The cavity is filled with high density foam for additional thermal efficiency.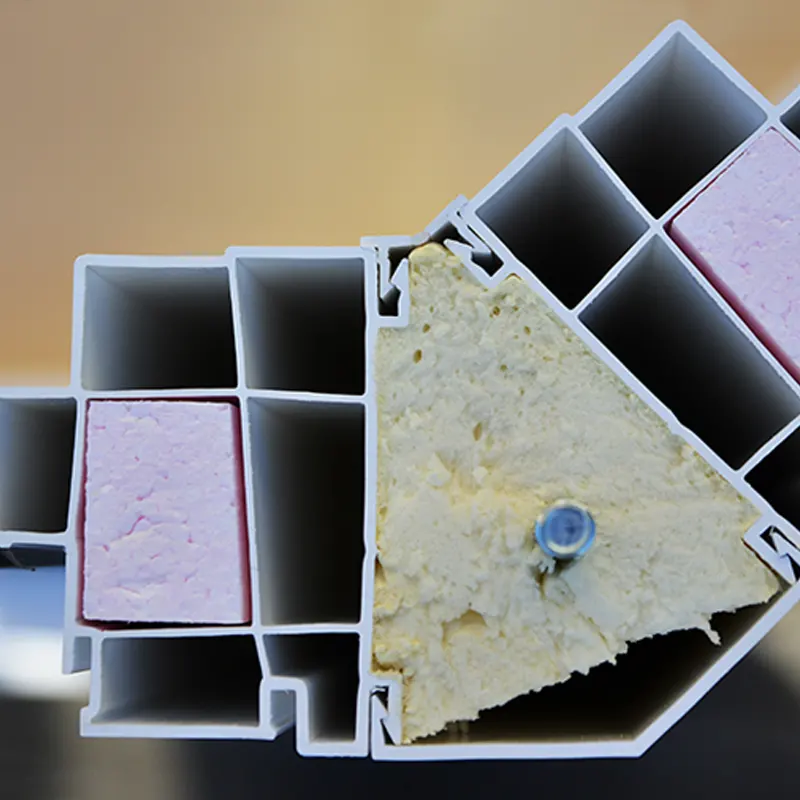 NO-Sag Support System
Our bay windows come with an adjustable turn-buckled cable support system to ensure that they will never droop or sag. Eyehook nuts are attached on two of the threaded steel rods and a 3" eyebolt lag is attached to the top of the window header or present roof overhang. The cables are attached to a turnbuckle and then it is adjusted to the precise pitch.
Adjustable, hanging support system with 600 lbs. working load limit per brace.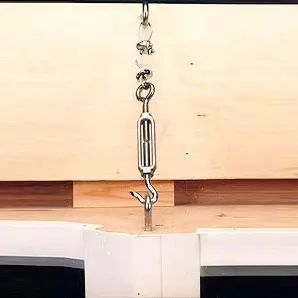 HeatSeal Non-Metal Spacer
Most windows are manufactured with a metal spacer in between the two panes of glass, which may cause excessive condensation and heat loss. OKNA bay windows are manufactured with HeatSeal spacer. This non-metal spacer creates an excellent thermal barrier and reduces the transfer of heat and cold into the home.
Styles
Bay windows are available with casement, double-hung or picture windows style windows. So you can have the look and operation you want – that best fits the style of your home.
Maintenance Free Exterior
All exterior components of the OKNA bay window are completed in vinyl, thus providing a maintenance free exterior that will never need painting.
Edge Banding
The interior edge of the hardwood veneer comes with a finished edge. The finished edge will allow for the interior casing to be installed with a reveal.
Interior Colors
Our company offers five beautiful interior laminates in addition to the standard Euro-White and the optional Almond colored vinyl to give your home a distinct look. All options, besides Euro-White, are available at an additional charge.
Exterior Colors
OKNA Windows offers seven exterior stock color selections in addition to the standard Euro-White option to give your house a distinct look and enhance its curb appeal. You can also select custom exterior colors from a virtually unlimited selection of paints. Our paints are environmentally safe and durable, giving your exterior a vibrant and long-lasting color finish. Exterior colors other than Euro-White must have full screen. All options, besides Euro-White, are available at an additional charge.