OKNA Basement Hopper Window 500 Series
SEVEN SUN proudly offers basement hopper windows by OKNA Windows & Doors. For over twenty years OKNA has been producing some of the most energy efficient windows in the industry. With extremely low infiltration rate, OKNA basement hopper windows are also some of the most air-tight windows in the market today. The highest energy efficiency combined with the lowest infiltration rate of OKNA basement hopper windows will help you save on energy bills and increase comfort in your home year round. The big box stores usually stock the limited number of standard window sizes that may not fit your basement window opening. Although window opening can be "fudged" by using wood boards, the result doesn't look well and decreases the glass area. Since OKNA basement hopper windows are custom-made to the nearest 1/8 of an inch, you can be sure of a perfect fit and better final appearance of your basement window project.
Maintenance free rigid multi-chamber vinyl profile.
Fusion welded beveled frame & sash for superior strength and durability.
Heatseal® warm edge spacer system for excellent thermal efficiency
and drastic reduction in the possibility of condensation on the inside of the window.
Fiberglass mesh half screens standard on all windows.
Full integral interlock with double weatherstripping.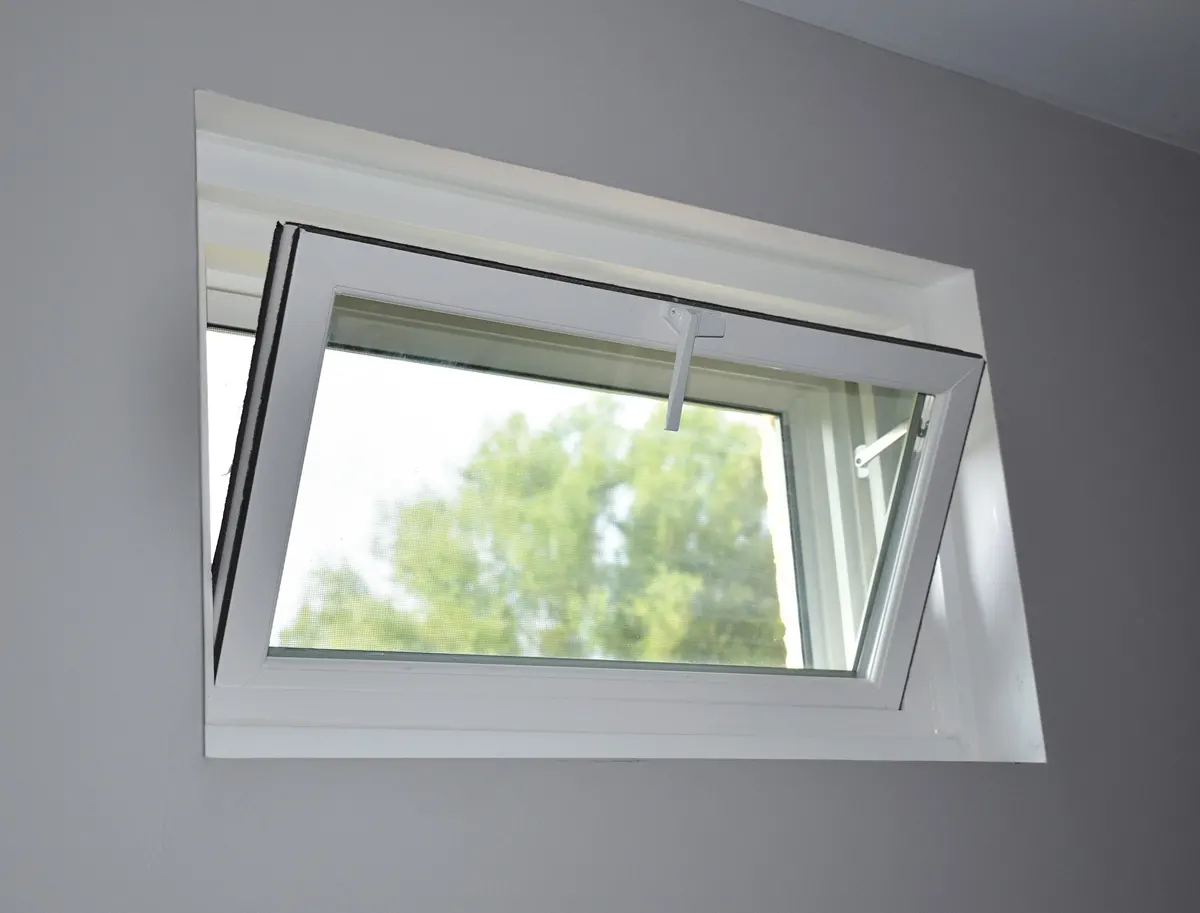 With extremely low infiltration rate, OKNA basement hopper windows are some of the most air-tight windows in the market today.
The Hopper's latch not only enables the window to open and close but it also will allow the window to be locked in place.
Optional foam-filled insulated extrusions add energy efficiency (Deluxe version only).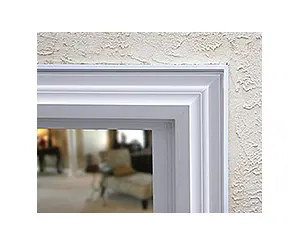 Full 3¼" Depth Welded Mainframe that features beveled exterior curves that not only have a modern day look, but also allow for maximum weld surface resulting in superior strength and years of long lasting performance.
Benefits Of Basement Hopper Windows
Improved Comfort & Curb Appeal of Your Home
Most homes in Connecticut have basement windows that are ugly, drafty and therefore energy-wasting. Although these windows are typically small, they are big in wasting energy and compromising comfort of your home. If you've got old wood or metal windows, it is worth considering replacing these windows with new basement windows such as basement hoppers. Not only can new basement hopper windows improve the curb appeal of your home but they also can improve the comfort both in the basements and levels above.
Color Options
OKNA Windows offers three exterior color selections in addition to the standard Euro-White option to give your home a distinctive look and enhance its curb appeal. You can also special order custom exterior colors from a virtually unlimited selection of paints. OKNA Windows paints are environmentally safe and durable, giving your exterior a vibrant and long-lasting color finish.
Better Ventilation & Easy Cleaning
Some older basement windows, typically metal ones, are often almost impossible to open. This prevents the homeowners from letting the fresh air as needed. New basement hopper windows are hinged at the bottom of the window frame and can be open with a single pull of the locking handle. Our basement hopper windows can be open to a full 90-degree angle, which provides plenty of fresh air and makes window cleaning a breeze.
ThruVision Plus is our fiberglass visibility screen that improves the view by making it sharper and more vivid.