OKNA Awning 750 Series
SEVEN SUN proudly offers awning windows by OKNA Windows & Doors. For over twenty years OKNA has been producing some of the most energy efficient windows in the industry. With extremely low infiltration rate, OKNA awning windows are also some of the most air-tight windows in the market today. The highest energy efficiency combined with the lowest infiltration rate of OKNA awning windows will help you save on energy bills and increase comfort in your home year round.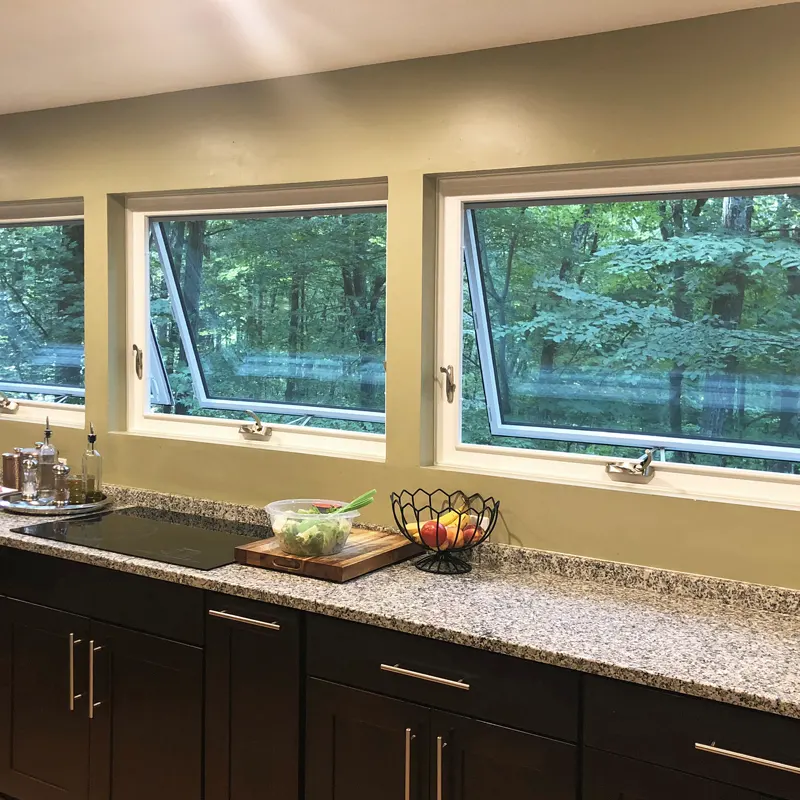 Fully welded beveled frame & sash for superior strength.
Maintenance free rigid multi-chamber vinyl profile.
Triple weatherstripping to significantly reduce air, water, dust, and noise infiltration.
Progressive multi-point locking system for weather-tight seal draws the sash tightly and securely to the frame.
High performance, corrosion resistant, operators for effortless operation and easy adjustability.
Folding crank handles for minimal interference with draperies and blinds (standard).
HeatSeal® warm edge spacer system for excellent thermal efficiency and drastic reduction in the possibility of condensation on the inside of your window.
Full fiberglass mesh screen standard with all awning windows.
Optional Wood Extension Jambs for 2 x 4 and 2 x 6 stud wall installation for new construction windows.
The awning opens out for exceptional air circulation without exposing your home to the elements.
Optional foam-filled insulated extrusions add energy efficiency (Deluxe version only).
Dual locks pull the sash firmly and securely to the master frame. Dual locks also offer added security by providing additional points of reinforcement on the window.
Folding style crank handles, standard on all awning windows, minimize interference with blinds and other window treatments.
Benefits Of Awning Windows
Ventilation
Awning windows are similar to casement windows, with one major difference. While casement windows are hinged on the side, awning windows are hinged at the top of the window frame. Since awning windows can be open while it's raining without letting water into to your home, they can boost ventilation even during rainy weather.
Security
Awning windows are very difficult to break into because locks and keepers are embedded within the window frame. This makes it virtually impossible to break into without breaking glass. Additionally, awning windows have two locks (one on each side) instead of one, which further increases security.
Unobstructed Views
Awning windows provide virtually unobstructed views to the outdoors. Therefore homeowners can have a greater sense of openness and connection with the natural environment.
Practicality
Some homeowners may purchase a traditional window style, such as double-hung windows, for entire home, but will use awning windows in places more difficult to reach. An awning window is an ideal window to place above cabinets, counter tops and sinks, because the crank-out handle mechanism makes it easier to open. Some people choose awning windows for bathrooms as well.
Streamlined Look
Awning windows offer streamlined look. This simple design is an appealing choice for wide variety of homes in Connecticut ranging from: modern, craftsman to bungalow and other home styles.
Protection from the elements
Like casement windows, awning windows are some of the most energy efficient and airtight windows, therefore, they provide exceptional protection from the elements during inclement weather. Moreover, due to their ingenious design of top-hinged sash, awning windows can be open while it's raining without letting water into the house.
OKNA Windows offers three exterior color selections in addition to the standard Euro-White option to give your home a distinctive look and enhance its curb appeal. You can also special order custom exterior colors from a virtually unlimited selection of paints. OKNA Windows paints are environmentally safe and durable, giving your exterior a vibrant and long-lasting color finish. Three beautiful interior woodgrain laminate options are also available.
ThruVision Plus is our fiberglass visibility screen that improves the view by making it sharper and more vivid.