You will get some of the highest quality and the most energy efficient windows in the market today. Our prices are reasonable, because we are a smaller company and don't have big overhead costs. Your windows or doors will be installed with precision and care by the team of professional and friendly people. This way you will enjoy a consistent, clean and sharp looking installation that will dramatically improve energy efficiency and the look of your home's interior and exterior.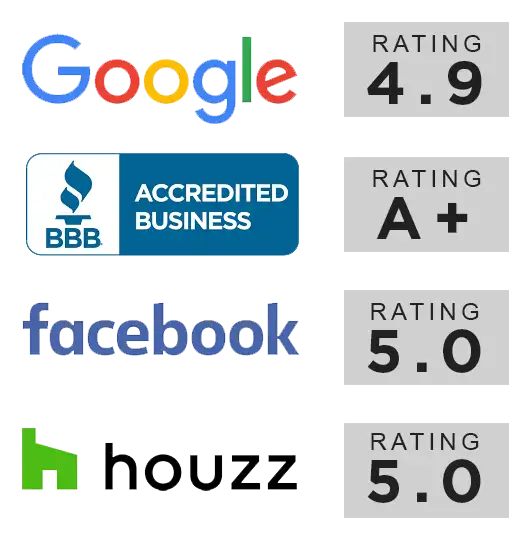 Real Reviews From Real People

"Quality. Detail. Customer Service. Dedication. Seven Sun Windows would get one billion stars if I could give them. It was certainly worth the cost-quality products, wonderful customer service, and meticulous work. I had a good feeling about them from the minute I inquired.
They delivered on all promises. They managed their time well. They were respectful. They were detailed. They were dedicated. My house looked cleaner AFTER they finished the job. And you can tell this team takes pride in their work."
– Laura Scaviola

"One of the best contractors we have worked with. Had about 16 windows replaced on our main floor in a few days. Crew was always on time, clean, kind, and did a great job. Value was amazing and will definitely use them again when we need to replace the upstairs. Definitely recommend."
– Steven Lee

"I had the best experience working with Seven Sun. The best contractor I have ever worked with. Paulina was so incredibly responsive and ZZ was so informative. They had the best price of all the competitors and the service was unparalleled. They take so much pride in the work of the company and made sure I was informed every step of the way. Could not be more grateful that I chose to work with them!"
– Jesse Goodrich – Gotta

"Seven Sun was AWESOME to work with! I had 5 double hangs, a bay window, a sliding window and a patio door installed. The team had excellent time management, they were organized and clean and they went above and beyond in paying attention to the finer details. They take pride in their work and the after work proves that."
– Della Butler
Read this if you'd like to learn more:
Top Quality Products Tailored Just For Your Home
Our windows and doors are individually customized for you to the highest standards of durability, security and energy efficiency. We'll give you a better alternative to consumer-grade windows and doors sold through home improvement retailers because:
The materials as well as the workmanship that go into custom made windows and doors are of exceptional quality and far exceed what is available as ready-made.
Unlike consumer-grade, professional class windows and doors are customized to your exact measurements for a better fit and clean, sharp looking installations.
You will get the products designed exactly the way you want it.
Made in the USA – ENERGY STAR Qualified
SEVEN SUN proudly offers the most up-to-date line of energy efficient insulated glass packages that will realize your return on investment fast. We install double and triple-pane windows with Argon or Krypton gas. Most of our windows exceed new rigorous ENERGY STAR requirements for 2016 and beyond. All of our products are made in the USA.
Attention to the Smallest Details
Some call us perfectionists. And we take it as a compliment. Yes, we will install your new windows and doors with total attention to the smallest details! We believe that if we take care of the smallest things the big things will take care of themselves.
Your Project Will Be Done the Right Way, the First Time
Instead of spreading our energy on many types of home improvements, our company chose the path of strict specialization. We know that if we laser-focus on just a couple of similar products and each time follow the proven installation methods, we'll be able to install them with precision and care. We don't do tiles, kitchens, basements or roofing. But when we install windows and doors we achieve sharp-looking, clean and consistent installations every single time. We'll save you time and give you the peace of mind that the job will be done right the first time.
IT'S ALL IN THE SYSTEM – Virtually ZERO Measuring and Ordering Errors*
*Virtually? – yes, because humans are imperfect and occasionally all of us can make a mistake. However, at SEVEN SUN measuring and ordering errors are almost non-existent. Why? Because we are a smaller company, and have systems in place that help us better control the measuring and ordering aspects of your home improvement project. This way the right products arrive the first time and they get professionally installed. And you? You can move on with whatever is the most important in your life.
Virtually ZERO Post-Installation Callbacks*
At Seven Sun Windows we reinvest our earnings back into the company. This enables us to continually improve installation techniques and invest in the best tools available. We strive to provide quality over quantity to our clients – and if we're not going to do a job the right way, we're not going to do it at all. Thanks to this approach we are proud to offer that "Old-World Craftsmanship" with virtually ZERO post-installation callbacks.* If there's a problem however, we'll own it! We'll be there to help you in 48 hours or less.
Simple, Clear and Honest Quotes with NO Hidden Charges
"I'm working more. I have less time to spend with my family or relax…" Does this sound familiar? We value your time and from start to finish and do everything with you in mind. In-home consultations may take 30-60 minutes or longer depending on the scope of your project. Our appointments are designed to quickly: assess your needs, find the right solution, and calculate the price right in the comfort of your home. You will be presented with the proposal for your project on the same day. You will get a firm price in writing at the time of the appointment. We will present you with options for your project with scrupulous honesty even if you are bound to choose an option that will be less profitable for our company.
NO Deceptive Advertising, Ever
We never use phony advertising in order to lure you into buying. That's why we never advertise unrealistically low prices. Home improvement is not a commodity business. Different homeowners have different needs; different home styles require different approaches, use of different products, and different time frames. It's almost impossible to quote a home improvement project without assessing it first. Remember, assessment of your needs, finding the right product, and planning are the key ingredients of the successful renovation project.
NO Pricing Games
We never use confusing pricing games. We don't inflate the prices and then offer you a big "discount" just to make you feel you're getting a great deal. The price you see is the price you're going to pay. We keep it simple.
Licensed and Insured
When you hire SEVEN SUN, you won't have to worry about your most precious asset – your home. Our company is licensed, insured and our record at Better Business Bureau has absolutely no complaints. Over 17 years in business – 0 complaints.
Lifetime Warranty, Parts and Labor 100%
On the top of the manufacturers Lifetime Window Warranty for parts, SEVEN SUN offers Lifetime Warranty for installation. If there is a problem with any window part including insulated glass, we will guarantee it to you – the original purchaser 100% parts and labor for as long as you own your home.
Certified Installers
Even the most durable and energy efficient window will not perform 100% if installed incorrectly. Trust certified installers in order to maximize: energy efficiency, product life-cycle, and home aesthetics, and to minimize the potential of costly and time-consuming service calls.
U.S EPA Lead-Safe Certified Firm
Seven Sun Windows is certified under EPA's Renovation, Repair and Painting Rule.
Personalized Service
You'll be able to communicate with the same people throughout the whole project.
Upon completion, we will inspect the work and address any issues on the spot.
You'll be treated the same way as any other of our customers.
Whether your order is twenty or just one window, we'll put as much effort and energy as necessary to make your project look great and simply make you happy.
Easy Financing 0% Interest for Qualifying Buyers
Fast and simple application process. No gimmicks. No hidden fees.
Credit Cards
We accept all major credit cards using a secure mobile device and never keep your credit card information on file.
Your Safer Choice
When we were opening SEVEN SUN in 2006, our main goal was to provide homeowners with Top Quality Products and World-Class Service. It paid off. Homeowners appreciate our professionalism. They know that we stand behind our services and products we install. As the professional window and door company we are your safer choice.
Because your home may be losing energy year round. During winter, heat from your furnace may be escaping freely through drafty inefficient windows. On hot sunny days, older windows with single or double-pane clear glass act like a magnifying glass making your home even hotter and costing you money in air conditioner kicking-in more often.
Because new windows with high performance glazings can improve the quality of your life in many ways:
Your home will be more comfortable year round – warmer during winter and cooler in the summer.
You will save money on energy bills.
You will spend less time on maintenance – no more scraping, sanding, painting or staining.
Your new windows will be easier to open and clean.
Your home will be quieter.
Your home will simply look better, too.
Although energy-efficient windows and doors can make up for their cost premium by saving you money on energy bills in the-long run, the increased thermal comfort and improved look of your home inside and outside are the benefits that begin immediately.
Choosing window and door company that is right just for you can be a daunting task. Look for quality products that conserve energy and the environment. Look for professional company to install and service those products – a company that will stand behind their work and offer you support all the way. When you trust SEVEN SUN you can be certain that you hired people who have your best interest at heart. You can be sure that we will invest enough energy to make your home more energy efficient, eco-friendly, more comfortable and simply more beautiful.
Buying new windows is not a rocket science. Yet quite a few, often treated as an afterthought, things can simply go wrong and cause you frustration. Messy installation, miss-measured windows, no attention to details, or not keeping ones' promise are only some of them. So when the time for new windows or doors comes, why not to get them done the right way, the first time?
We'd be honored to work with you on your next project.