The elegant, beveled profile of the 800 series will enhance
the beauty of your home's exterior.
Enviro-Star 800 Series offers traditional look and feel of wood with the performance and ease of maintenance you can only get with vinyl windows.
The smallest details, such as the rounded beveled edges of the glazing bead, are a nod to the classic.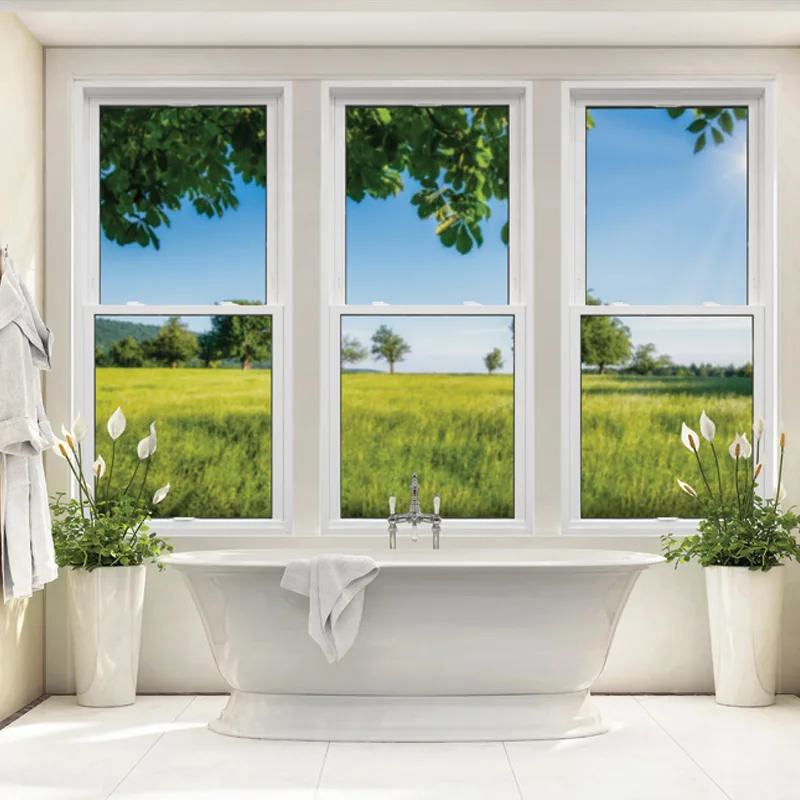 Enviro-Star 800 was designed to authentically represent a traditional wood window.
Maintenance free rigid multi-chamber vinyl profile.
Full 3 1/4″ depth uPVC fusion welded frame and sashes with beveled colonial exterior features curves that are not only beautiful, but also allow for maximum weld surface strength and years of long-lasting performance.
HeatSeal warm edge spacer system for excellent thermal efficiency and drastic reduction in the possibility of condensation on the inside of the window.
Full integral interlock with double weather-stripping.
A variety of hardware options fits harmoniously into any decor.
Fiberglass mesh half screens standard on all windows.
Optional locking screen provides an additional safety measure.
Available in replacement applications.
The classically refined line of the 800 series brings to mind a traditional wood window without most of the maintenance responsibilities.
A streamlined design, packed with a variety of features makes this window a sophisticated choice. The 800 series offers hardware options reminiscent of classic wood windows. It is the only vinyl window we manufacture without an integrated lift rail. The double hung features a handle style based on traditional wood windows. Recessed vent and tilt latches give the window a streamlined appearance as well as making clean-up a breeze. The reveal of the top sash at the meeting rails is a distinguishing mark of the 800 series, drawing inspiration from classic wood windows.
Our company offers five beautiful interior laminates in addition to the standard Euro-White to match any decor and style.
All options, besides Euro-White, are available at an additional charge.
OKNA Windows offers seven exterior stock color selections in addition to the standard Euro-White option to give your house a distinct look and enhance its curb appeal. You can also select custom exterior colors from a virtually unlimited selection of paints. Our paints are environmentally safe and durable, giving your exterior a vibrant and long-lasting color finish.
Exterior colors other than Euro-White must have full screen. All options, besides Euro-White, are available at an additional charge.
To create a style and finish that reflects your unique taste, our hardware is designed to harmonize with our different window styles and decor ideas.
GBG grilles consist of aluminum bars sealed in the insulation airspace between the two panes of glass. Because the interior and exterior glass surfaces are not affected, cleaning your windows is a much easier task.
Permanent interior and exterior grids with spacer will provide a truly authentic look. Interior grids are available in Euro-White or wood laminates to match your home's decor. External grids are available in Euro-White or colors to match product exterior.
Are you looking for a stunning design detail to instantly set your home apart both inside and out? A choice of decorative grilles for your OKNA Windows & Doors can highlight the architectural style that speaks to you.
OKNA Windows offers textured glass in a variety of distinctive choices that add visual interest to any design while offering variability in light control. With a range of options at your fingertips, you can find a standard glass texture for virtually every application and aesthetic, from traditional to modern.
OKNA Windows offers factory-installed half screen with heavy-duty handle. Screens are removable from the inside for convenient storage. We also offer ThruVision Screens improving view thru the window protecting interior from insects and allowing perfect ventilation. ThruVision Plus is our fiberglass visibility screen that improves the view by making it sharper and more vivid.